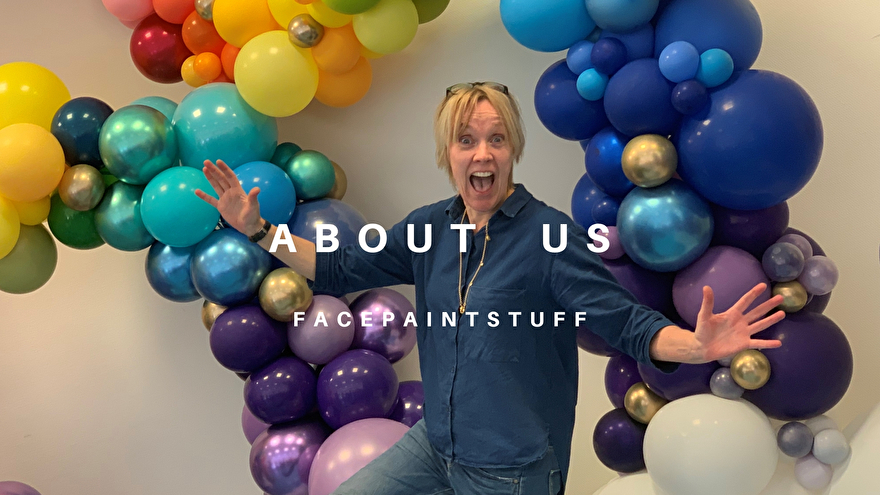 FacepaintStuff brings colour to your party!
As a classically trained dancer with a bachelors degree in fashion design, FacepaintStuff founder Jon van Nieuwkerk has always been inspired by the visual arts. Facepainting and Ballooning was a natural add-on to all her colourful interests.
Since 2014 her focus shifted from fashion design to FacepaintStuff, a company providing professional facepainters, balloon-twisters and fake-tattoo artists for large parties and events. All enthousiastic, creative professionals that bring colour to your party!
FacepaintStuff also sells high quality facepaint and facepaint materials, organises en teaches workshops in its Amsterdam studio. By now we have grown to become a one-stop-shop for everything to do with facepainting, for both the hobbyist and the professional.
What sets us apart?
At FacepaintStuff we find hygiene and sustainability very important, which means;
all products are cleaned and disinfected after every party
our facepaint and glitters are hypo-allergenic
most facepaint products we use are vegan and animal-friendly
you can request an eco-facepainter at your party
we use biodegradable products, where possible

we don't do balloon releases, as they will end up in nature

all our balloons are made of high quality, natural material and can be added to a compostbin, after use
Also, we collaborate with other professionals to be able to give you a wider range of services for your party. For instance, you can now have a photographer or a make-up artist at your event, order a single cake, candyflossmachine or large, themed sweets-buffet. Just let us know your ideas and we'd love to help!
email; info@facepaintstuff.com - KvK 34249422
HMJ van Nieuwkerk - Wethouder Doevenstraat 17 - 1165MH Halfweg (Nh)
06-17.19.61.63
Als bezoeker heb je het recht een klacht in te dienen over deze webside bij de autoriteit persoonsgegevens; Postbus 93374, 2509 AJ DEN HAAG
Wij verwerken de volgende gegevens die gelinkt kunnen worden aan 1 persoon; NAW-gegevens, e-mailadressen, telefoonnummers, en IP-adressen.
Doel van deze verwerking is gebruik bij verzending goederen/ bestelling, opslaan factuur, verzenden nieuwsbrieven.
Order gegevens worden tot 7 jaar na het plaatsen van de order bewaard, dit ivm wettelijke verplichting door de belasting dienst.
De Klant heeft recht op inzage, correctie, verwijdering, bezwaar en overdraagbaarheid van zijn/haar gegevens.
Derden die bovenstaande gegevens kunnen verzamelen, doordat u onze website, gebruikt zijn; Google (googleAnalytics), Facebook, MyParcel (verzending), Mollie (betaalmogelijkheid) Paypal (betaalmogelijkheid) Pinterest, Mijnwebwinkel.
Gegevens die je invult tijdens het plaatsen van een order of het versturen van een bericht worden opgeslagen op de servers van onze verwerker Mijnwebwinkel. Mijnwebwinkel zorgt voor een beveiligingsniveau dat past bij de te verwerken gegevens en neemt adequate maatregelen om gegevens te beschermen tegen verlies of enige vorm van onrechtmatige verwerking. Zo wordt bijvoorbeeld standaard gebruik gemaakt van een beveiligde SSL-verbinding